| | | |
| --- | --- | --- |
| Distance: 6.5 miles | | Price: From £60.00 per group |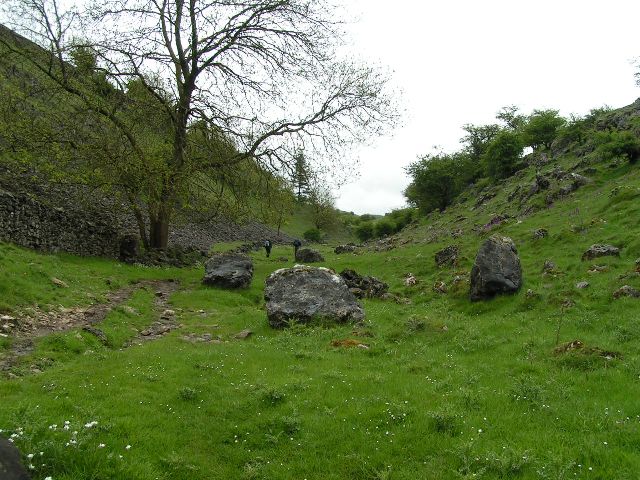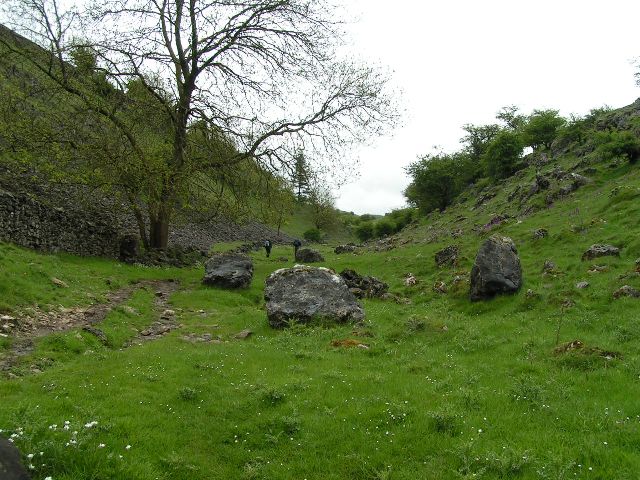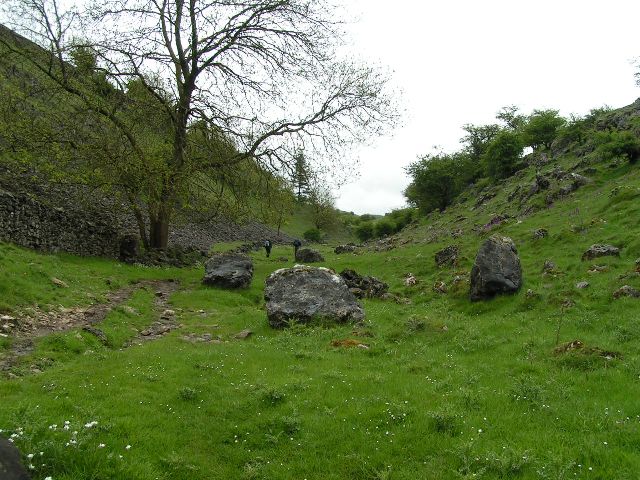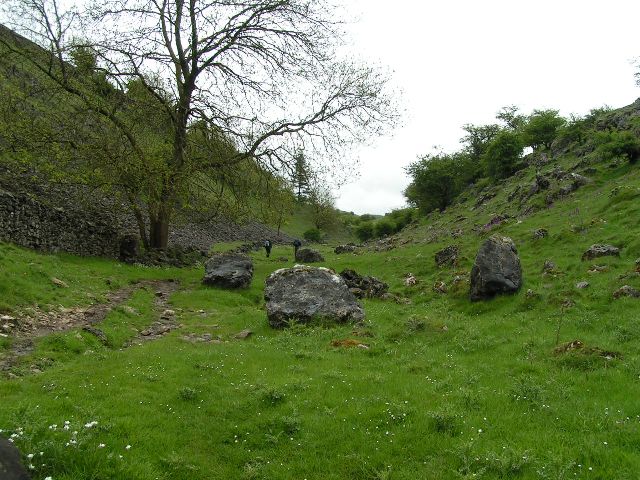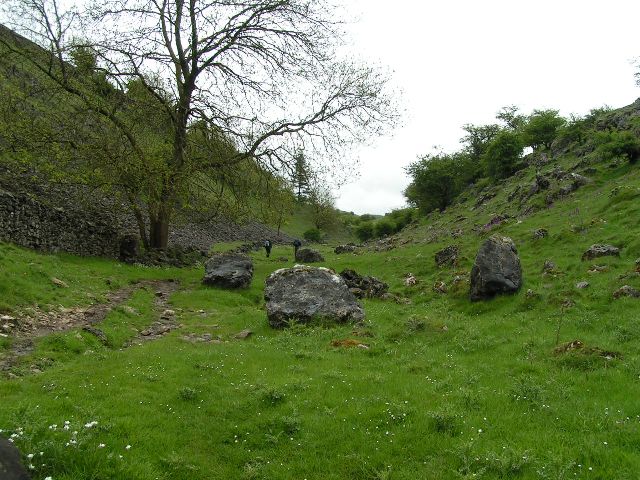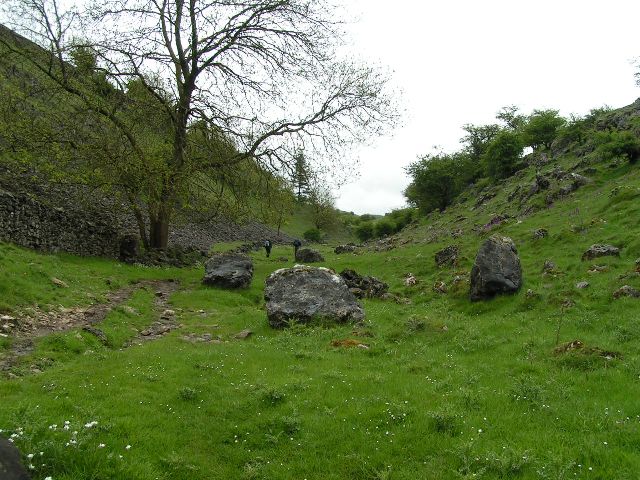 Horseshoe Dale
This circular walk begins and ends at the popular Brierlow Bar Bookshop on the A515 Buxton to Ashbourne road. From Brierlow Bar, the walk passes through two quiet and sheltered rocky Dales. From April to June, their lightly wooded slopes are usually awash with native wild flowers such as Cowslips, Red Campion, Early Purple Orchids and White Violets. It then crosses the fields to the small village of Chelmorton, said to be the highest village in Derbyshire and famed for its rare surviving Medieval strip fields. From Chelmorton, the walk returns to Brierlow Bar via yet another beautiful Dale.
Due to the very rugged nature of part of the route, involving some very rocky paths and a little bit of steep scrambling, this is a walk for the more experienced and adventurous walker. Because of the terrain involved, a good pair of walking boots is a must.
Duration (approx):

3.5 to 4 hours (including lunch).

Start point:

Bookstore Brierlow Bar,
Ashbourne Road,
Buxton,
Derbyshire.

Start time:

11:00am.*

End point:

Bookstore Brierlow Bar,
Ashbourne Road,
Buxton,
Derbyshire.

Dates available:

Due to the coronavirus pandemic, scheduled walks have been suspended. Private bookings are also available on a date of your choosing via a Personal Walking Guide (subject to availability and Coronavirus restrictions).

(* = As your guide will be arriving by the "Transpeak" bus service, the actual start time may be slightly delayed if the buses are running late.)
When is this walk available?
This walk is available between April 12th and the end of November.
Is this walk Covid-secure?
Derbyshire Heritage Walks has been awarded the Visit England "We're Good To Go" mark. This means that we fully comply with the current government and industry Covid-19 guidelines and are subject to random checks to make sure that we are complying. Therefore you can be confident that this walk is as Covid-secure as we can possibly make it. Details of how we do this can be found
here.
Prices.
Personal Walking Guide bookings are available for this walk at a cost of £60.00 per group for groups of up to 5 people, £100.00 per group for groups of 6 to 10 people, or £150.00 per group for groups of 11 or more.
Travel to and from the walk.
In normal times, this walk is easily accessible by public transport from Derby, Nottingham, Chesterfield, Sheffield and Manchester. However, due to the ongoing coronavirus pandemic and the advice to avoid the use of public transport where possible, we currently recommend that you get a family member or friend from your permitted "bubble" to drop you off and pick you up if possible.
Are there any disabled access issues?
Unfortunately, this walk is not suitable for wheelchairs due to the terrain involved. Additionally, due to the very rough and rocky condition of the path through Deep Dale, this walk is not suitable for those who find difficulty in walking over uneven ground.
Is this walk suitable for dogs?
Yes, this walk is suitable for dogs. However, we do ask that you keep your dog under close control at all times as the route of the walk passes through fields where there may be livestock present, and Deep Dale is a Derbyshire Wildlife Trust nature reserve. If you wish to bring your dog with you, please notify us beforehand.
Booking
Ordinarily, we use PayPal buttons to handle booking and payment for all of our walks. However, due to the current situation, we have suspended that system, and so now if you wish to book a walk, you need to
e-mail us
with the details of the walk and date that you wish to book. We will then send you a PayPal invoice, which you can pay either using a PayPal account or, if you don't have access to one of those, you can pay using any debit or credit card. Other payment options are available on request - Please
e-mail us
for details if required.
Please ensure before booking that you have read and agree to our terms and conditions.
Latest Booking News
Due to the ongoing coronavirus pandemic, places on each walk taking place before May 17th are limited to a maximum of five people, who MUST all be from the same household.

We are now accepting Personal Walking Guide bookings for this walk. Personal Walking Guide bookings may be made for Mondays, some Tuesdays, Wednesdays and most Saturdays from April 12th to November 23rd 2021.
This website is &copy Derbyshire Heritage Walks, 2019.
---
Cookie Policy: Like almost every other website on the Internet today, this site does use cookies. The only thing they are used for is as part of Google Analytics, so that we can tell how successful this site is at attracting visitors and which pages they look at most. If you don't want cookies on your system, then please don't view this site any further, as we can't change the underlying technology used by Google Analytics. We also suggest that you clear your cookies after leaving this site.