| | | |
| --- | --- | --- |
| Distance: 5.25 miles | | Price: From £40.00 per group |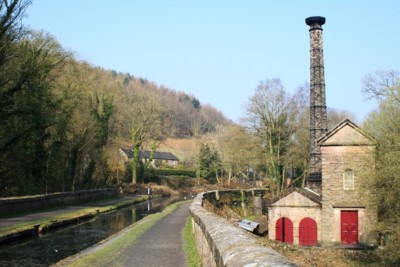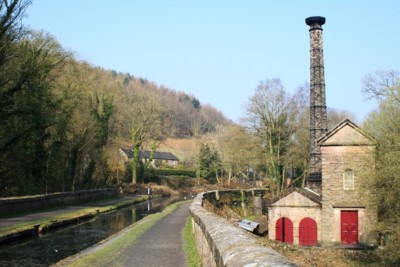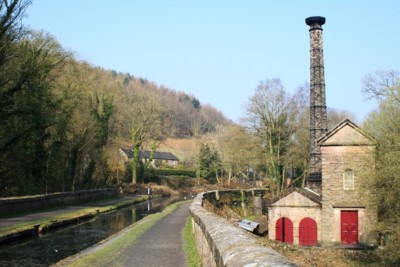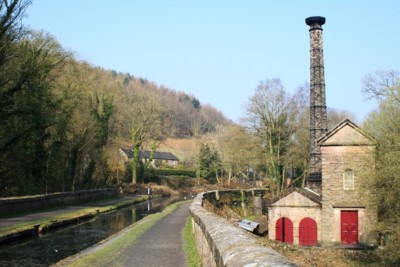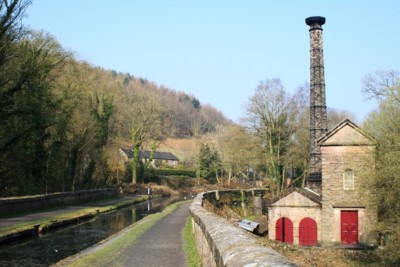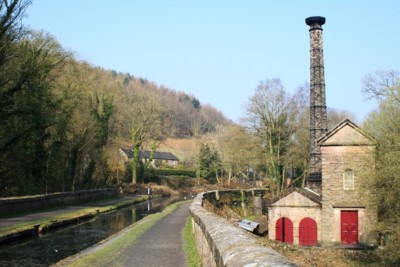 Leawood Pumphouse
This is an enjoyable end-to-end walk of the surviving western section of the Cromford Canal, looking at the history of the Canal and the various industries it once served.
The walk begins at Cromford Wharf, which once served the huge cotton mills of Richard Arkwright where the Industrial Revolution was born. Following the canal southwards, it passes High Peak Junction, site of one of the earliest railway workshops in the world, and the preserved Leawood Pumphouse, which supplied water for the canal by drawing it from the river below. It then continues along the canal through Whatstandwell, finally ending where the line of the canal is broken by modern industrial construction at Ambergate.
The entire length of the Canal is a Site of Special Scientific Interest (SSSI) due to the diverse wildlife found along its length, while the section from Whatstandwell Bridge to Ambergate is also a Local Nature Reserve (LNR). Besides the other wildlife that can be seen along its length, the Canal has also become a haven for the Water Vole, under threat elsewhere from the introduced American Mink.
Duration (approx):

3 hours.

Start point:

Cromford Canal Wharf,
Off Mill Road (Mill Lane),
Cromford,
Derbyshire.

Start time:

1:30pm.

End point:

Opposite the Hurt Arms public house,
Ambergate,
Derbyshire.

Dates available:

Due to the coronavirus pandemic, scheduled walks have been suspended. Private bookings are available via a Personal Walking Guide on a date of your choosing (subject to availability and Coronavirus restrictions).
When is this walk available?
Is this walk Covid-secure?
Derbyshire Heritage Walks has been awarded the Visit England "We're Good To Go" mark. This means that we fully comply with the current government and industry Covid-19 guidelines and are subject to random checks to make sure that we are complying. Therefore you can be confident that this walk is as Covid-secure as we can possibly make it. Details of how we do this can be found
here.
Prices.
Personal Walking Guide bookings are available for this walk at a cost of £40.00 per group for groups of up to 4 people, £60.00 per group for groups of 5 to 8 people. Due to restricted space on the canal towpath, we cannot accept bookings for groups of more than 8 people.
Travel to and from the walk.
This walk is easily accessible by both car and public transport. However, due to the current situation regarding the use of public transport, we are recommending that you get someone from your own houshold to drive you to and from the walk, or use other environmentally-friendly forms of personal transport such as cycling.
Are there any disabled access issues?
The first part of the Canal, from Cromford Wharf to Leawood Pumphouse, is suitable for wheelchairs, with easy access onto the canal towpath at Cromford Wharf, and also off the towpath at High Peak Junction. Beyond Leawood Pumphouse, wheelchair access is impossible due to a narrow wooden bridge and the narrowness and surface condition of the towpath. For this reason, we are unable to accept bookings for wheelchair users on this walk. Others of more restricted mobility may also find difficulties with some sections of the towpath.
Is this walk suitable for dogs?
Given the narrow towpath, the sensitive nature of the natural environment and the large number of cyclists also using the canal towpath, we strongly recommend that you do
not
bring your dog with you. This is also a view shared by Derbyshire County Council, as they have had many issues with incidents where free-running dogs have disturbed the protected species found along the canal, and have an on-going campaign to educate owners using the canal as a walking route for their dogs.
If you feel that you must bring your dog with you, we do ask that you inform us at the time of booking. We also ask that you keep your dog under close control on a short non-extendible lead at all times and do not allow it to run free under any circumstances.
Booking
Ordinarily, we use PayPal buttons to handle booking and payment for all of our walks. However, due to the current situation, we have suspended that system, and so now if you wish to book a walk, you need to
e-mail us
with the details of the walk and date that you wish to book. We will then send you a PayPal invoice, which you can pay either using a PayPal account or, if you don't have access to one of those, you can pay using any debit or credit card. Other payment options are available on request - Please
e-mail us
for details if required.
Please ensure before booking that you have read and agree to our terms and conditions.
Latest Booking News
Due to the ongoing coronavirus pandemic, places on each walk taking place before May 17th are limited to a maximum of five people, who MUST all be from the same household.

This walk may be booked privately via a Personal Walking Guide on Mondays, Tuesdays, Wednesdays, Thursdays, some Fridays, most Saturdays and some Sundays from April 12th to the end of November 2021.
This website is &copy Derbyshire Heritage Walks, 2019.
---
Cookie Policy: Like almost every other website on the Internet today, this site does use cookies. The only thing they are used for is as part of Google Analytics, so that we can tell how successful this site is at attracting visitors and which pages they look at most. If you don't want cookies on your system, then please don't view this site any further, as we can't change the underlying technology used by Google Analytics. We also suggest that you clear your cookies after leaving this site.