Rails Through The Peaks 2 - Miller's Dale to Bakewell

Distance: 6.4 miles

Price: £10.00 per person




(Group & family rates available)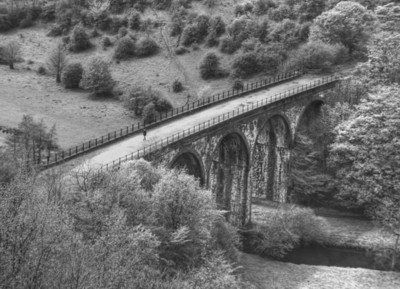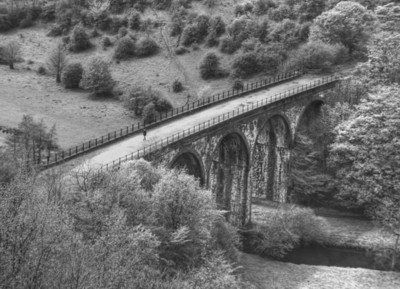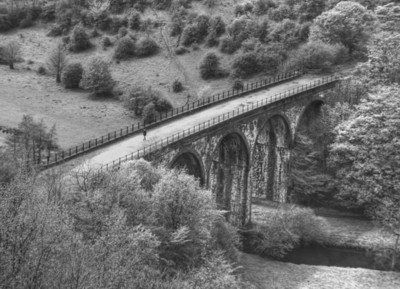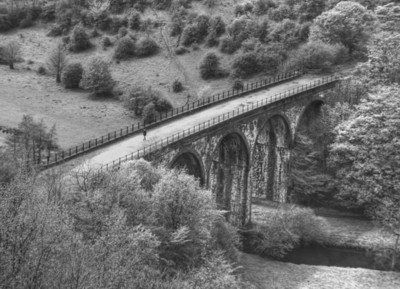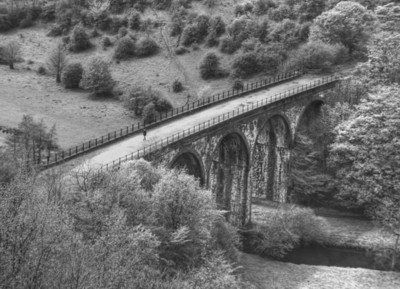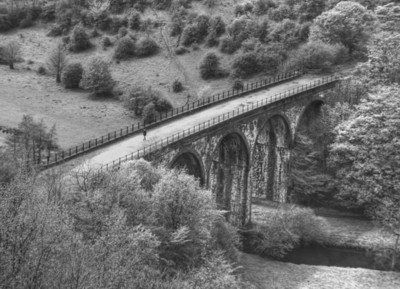 Headstone Viaduct, Monsal Dale
Winding its way through the heart of the Peak District National Park, the Monsal Trail follows the route of the former Midland Railway main line linking London, Derby and Manchester. Built in the 1860s through spectacular terrain, the line moved noted Victorian railway author F.S. Williams to write:
"The scenery through which we now have to pass, and the engineering works by which the journey is accomplished, must be seen to be appreciated - they cannot be described at length."
As a result of the cuts in the network first initiated by the infamous Dr Richard Beeching, the line lost all of its local services in June 1967, and then closed completely north of Matlock in July 1968. In the early 1980s, a section of the former trackbed was used to create the Monsal Trail, which is now one of the most popular walking and cycling routes in the Peak District.
This is our most popular Monsal Trail walk, and begins at the site of the old Miller's Dale Station, one of the major interchange stations on the line where passengers from Buxton would change onto express services for London. It then follows the Trail southwards, stopping to look at the history of each of the former stations along the Trail, plus other points of interest such as the picturesque Headstone Viaduct. The walk finishes at the site of the old Bakewell Station, from where it is just a short walk down into the town, where you can sample one of the town's famous Puddings.
Duration (approx):

3 to 4 hours.

Start point:

Miller's Dale Station,
Miller's Dale,
Derbyshire.

Start time:

12:30pm.

End point:

The former Bakewell Railway Station,
Station Road,
Bakewell,
Derbyshire.

Dates available:

May 29th.
June 16th.
July 3rd.
August 8th.
September 11th.
October 16th.
November 7th, 17th, 27th.
December 1st, 5th, 8th, 11th, 14th, 16th, 19th.

Private bookings are also available on a date of your choosing via a Personal Walking Guide (subject to availability and Coronavirus restrictions).
When is this walk available?
This walk is available between April 12th and late December (weather permitting). Scheduled walks take place at least once per month, and it may be booked privately at other times via a
Personal Walking Guide
.
Is this walk Covid-secure?
Derbyshire Heritage Walks has been awarded the Visit England "We're Good To Go" mark. This means that we fully comply with the current government and industry Covid-19 guidelines and are subject to random checks to make sure that we are complying. Therefore you can be confident that this walk is as Covid-secure as we can possibly make it. Details of how we do this can be found
here.
Prices.
The following prices apply for this walk:
Ticket

Price

Deposit
(Included in overall price)

Adult or Child aged 16 and over
(Up to 8 people in group)

£10.00 per person

£3.00 per person
Discounted family tickets also available, giving cheaper prices for groups including children aged 15 and under. Please
e-mail us
for details.
Personal Walking Guide bookings are available for this walk at a cost of £60.00 per group for groups of up to 10 people, or £90.00 per group for groups of 11 or more.
Travel to and from the walk.
In normal times, this walk is easily accessible by public transport from Derby, Nottingham, Chesterfield, Sheffield and Manchester. However, due to the ongoing coronavirus pandemic and the advice to avoid the use of public transport where possible, we currently recommend that you get a family member or friend from your permitted "bubble" to drop you off and pick you up if possible.
Miller's Dale Station Car Park can be used as a drop-off point if someone is giving you a lift there, and there is a similar pick-up point at Bakewell Station at the far end of the walk.
Are there any disabled access issues?
Normally, there are no issues with disabled access on this walk and it is fully suitable for wheelchair users. If any of the tunnels have been closed for any reason, then the diversionary routes around them are not suitable for wheelchairs. However, such closures are rare and usually notified well in advance unless the result of severe weather (very rare in the summer). If we are aware of any tunnel closures, we will notify you to give you the chance to change or cancel your booking.
Be aware that there is a short steep climb up the road from the bus stop at Miller's Dale to the start point at the Station, but this is the only uphill section on the entire walk. As a result, self-propelled wheelchair users may need a helper to get up the slope from the bus stop to the start point.
Is this walk suitable for dogs?
This is an ideal walk for dogs, if you think they can handle the rather long distance involved. If you would like to bring your dog with you, we do ask that you inform us at the time of booking. We also ask that, due to the large number of cyclists and horses using the Trail, you keep your dog under close control on a short non-extendible lead at all times and do not allow it to run free under any circumstances.
Booking
Ordinarily, we use PayPal buttons to handle booking and payment for all of our walks. However, due to the current situation, we have suspended that system, and so now if you wish to book a walk, you need to
e-mail us
with the details of the walk and date that you wish to book. We will then send you a PayPal invoice, which you can pay either using a PayPal account or, if you don't have access to one of those, you can pay using any debit or credit card. Other payment options are available on request - Please
e-mail us
for details if required.
Please ensure before booking that you have read and agree to our terms and conditions.
Latest Booking News
Due to the ongoing coronavirus pandemic, places on each walk taking place before May 17th are limited to a maximum of five people, who MUST all be from the same household.

Bookings are open for all dates listed, and close at 1:00pm two days prior to the date of the walk.

We are now accepting Personal Walking Guide bookings for this walk. This walk is normally available on Mondays, some Tuesdays, Wednesdays, some Thursdays, most Fridays and Saturdays and some Sundays from April 12th, 2021 onwards.
This website is &copy Derbyshire Heritage Walks, 2019.
---
Cookie Policy: Like almost every other website on the Internet today, this site does use cookies. The only thing they are used for is as part of Google Analytics, so that we can tell how successful this site is at attracting visitors and which pages they look at most. If you don't want cookies on your system, then please don't view this site any further, as we can't change the underlying technology used by Google Analytics. We also suggest that you clear your cookies after leaving this site.